The Tax Cuts and Jobs Act made huge changes to U.S. tax law. If you are a first-time home buyer, here are the things you need to know.
Changes in Standard Deductions
Property taxes are still deductible, but there are two significant limitations to this benefit.
If you itemize your deductions on your tax return, you were able in the past to deduct property taxes, interest on your mortgage and mortgage insurance premiums from your taxable income.
However, if you did not itemize your deductions on your tax returns, you could take a standard deduction. Prior to the new tax bill, this was $6,350 for individuals, and $12,700 for couples. The new tax law nearly doubles the standard deduction, to $12,000 for individuals and $24,000 for couples.
Potentially the biggest issue is the increase in the deficit and national debt. Details are still emerging, but most analysts expect the deficit to soar, adding hundreds of billions (if not trillions) to the national debt.
This matters, because one of the most attractive incentives for owning real estate was the interest and property tax deduction. Property taxes vary widely from state to state, but most states charge taxes in the neighborhood of 1 percent of the assessed value of the home. On a $250,000 home, for example, your property taxes might amount to $2,500 per year. If you have a $200,000 mortgage at 4 percent interest, your interest deduction might add up to another $8,000 per year, for a total deduction of $10,500.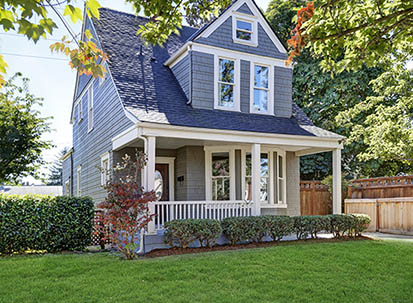 Find Your Home on RealEstate.com
If you are single, you would definitely have itemized those deductions in the past, because your itemized deductions would add up to more than the $6,350 standard deduction that you were allotted. A couple with a few other minor deductions would have itemized deductions, too.
Under the new tax law with the higher standard deductions, it would make no sense to itemize because your standard deduction is greater than the total of your itemized deductions. This effectively wipes out the tax benefit of owning your home, in this example.
The second limitation that could affect you is the limitation on deductions for state taxes. In the past, all taxes paid to the state in any form were deductible. Under the new tax bill, you are limited to an aggregate deduction for these taxes of $10,000. Since taxpayers in many states pay income and/or sales taxes that would add up to more than that, this effectively eliminates the tax benefit of the property tax deduction.
Buying Investment Property Just Got More Profitable
If you purchase a property to rent out, none of these limitations apply because business expenses remain deductible against the income from the property. (Possibly against your earned income, too, but see your tax advisor.)
This doesn't represent a change in tax law, but this does: After you have calculated your net income from your rental property, you can take an additional 20 percent off the top before paying taxes. Just because!
How can you invest in income property? You can buy a property on your own, invest with partners, purchase an interest in a limited partnership or invest in a Real Estate Investment Trust (REIT) that is carried on major exchanges, just like stock. After the new tax bill, the first 20 percent of your income from these investments could be tax-free. (Again, see your tax advisor)
Capital Gains Treatment Remains the Same
The treatment of capital gains on the sale of your personal residence was on the table in early versions of the bill, but thankfully was removed, and the law remains the same. If you have lived in your property for at least two of the last five years, then the first $250,000 of capital gains from the sale of the property is tax-free. ($500,000 for a married couple.)
There is no limit to how many times you can claim this exemption.
This is perfect for young couples who want to build wealth through sweat equity. Buy a fixer-upper, spend two years remodeling it, and sell it – the first $500,000 of gain is tax free. (For now.) Then do it again!
Where Will Interest Rates Go?
Potentially the biggest issue is the increase in the deficit and national debt. Details are still emerging, but most analysts (including the non-partisan Congressional Budget Office) expect the deficit to soar, adding hundreds of billions (if not trillions) to the national debt.
That matters, because interest rates are influenced by the demand for money. If the U.S. Government is competing with you for money from investors, interest rates are likely to be driven up. The national debt already stands at about $20 trillion as of this writing, so it is hard to say how much this will affect rates. But it is bound to have some affect, and that will make your cost of owning a home a little higher, through higher interest rates.
One more reason to buy something sooner, rather than later, if you are going to buy at all.