Our All-In Monthly Pricing is a cost of buying a house calculator that allows first-time home buyers to shop for homes the way they would shop for apartments – by monthly housing expense. That monthly housing expense includes the standard stuff, like principal and interest, but also pulls in things like the estimated property taxes, HOA fees, PMI, utilities, insurance and average closing costs – those hidden fees that tend to surprise buyers at the end of the buying process.
Who Does It Serve?
According to Zillow Groups' Consumer Housing Trends Report, 46 percent of all buyers are purchasing homes for the first time ꟷ that's a whole lot of people wading into very complicated waters with no instruction manual. And we know that Millennials, who make up 61 percent of first-time buyers, cite frustrations with determining an ideal home price and finding homes within that price range. Thirty three percent of millennial buyers go over budget – any wonder?
All-In Monthly Pricing is designed to cut through all the noise and confusion to give first-time buyers a more realistic snapshot of monthly mortgage-related expenses.
All-In Monthly Pricing is designed to cut through all the noise and confusion to give first-time buyers a more realistic snapshot of monthly mortgage-related expenses. Knowing an average monthly cost ahead of time can help buyers better establish a home budget ꟷ and stay within that budget.
How Does it Work?
Step 1: Visit RealEstate.com and search for a city and state.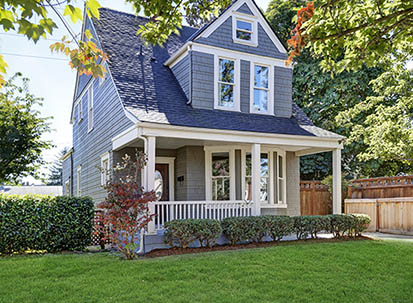 Find Your Home on RealEstate.com
Step 2: On the results page, select the "Any Price" tab to customize your search, based on a monthly mortgage payment or an affordable home price. Adjust other filters as necessary.
Step 3: From refined results, select a property.
Step 4: Review the property's All-In Monthly Pricing box. To reveal more data, click on down arrows.
Step 5: Working from one segment to the next, review costs and adjust where necessary. Note: No update or save function is necessary – your monthly cost adjusts auto-magically as you work your way through the process.
Step 6: Review each line item in the closing costs section. Hover over each fee to learn more; adjust costs as necessary.
Step 7: To start from scratch, refresh the page.
What are the Hidden Costs of Home Buying?
Property Taxes
Funds your local government uses to pay for services, education, transportation and more, property taxes are determined by first assessing the value of your home and multiplying that amount by the municipality's current tax rate, expressed as a percentage. Most homeowners pay funds into escrow accounts, which lenders manage and draw from to make the property tax payment. More About Paying Taxes Via Escrow.
HOA Fees
The governing body of a housing development, condo or townhome complex, the homeowners association (HOA) sets rules and regulations and charges dues and special assessments that are used to maintain common areas and cover unexpected expenses respectively. More About Buying a Condo or Townhome.
Private Mortgage Insurance (PMI)
A fee charged to a borrower who makes a down payment that is less than 20 percent of the home's value. The fee, 0.3 percent to 1.5 percent of the yearly loan amount, can be cancelled, in certain circumstances, when the borrower reaches 20 percent equity. More About Mortgage Insurance.
Utilities
Utilities usually include gas, electricity, water/sewer, garbage and oil if used in heating. Although home utility costs vary based on user consumption and location, there are ways to estimate a monthly payment. More About Lowering Utility Bills.
Homeowners Insurance
A policy that protects the structure of the home, its contents, injury to others and living expenses should damage occur. Coverage types include guaranteed replacement coverage, market value coverage and cash-value policy. More About Homeowners Insurance.
Closing Costs
One-time fees associated with the process of buying a home, closing costs can range from the lender's administrative fees to the cost of the home inspection and the title search. More About Paperwork You Will Sign at Closing.
Where Do We Get Our Data?
Mortgage rate: We pull in the Zillow.com daily average rate, which is based on rates posted by over 100 lenders.
Property taxes: We calculate a potential "if home were resold" rate by analyzing both the property's current rate, taken from public records information, and local property tax assessment data.
HOA fees: We pull in data provided by the listing agent for each property.
Insurance costs: We generate data that is based on the national average.
Utility costs: We pull in data from UtilityScore, an online platform that creates a unique profile for all 84 million single-family homes in the United States based on home characteristics (such as home area, age, and heating equipment), climate and over 7,000 local utility rates.
Closing costs: We generate data that is based on the median priced home per state.
How Accurate is Our Estimate?
All-In Monthly Pricing includes the most common costs associated with homeownership. Estimates are based on local averages and assumptions and don't take into consideration your personal financial situation, verified credit score, income, existing debt or other factors. Estimates should be used for informational purposes only.
That said, our team works tirelessly to refine our estimates, whether seeking out new and more accurate sources of data or improving the way in which we analyze that data.