Loan pre-approval: done. Agreement with the real estate agent: signed. Home search: about to happen. A few things may be running through your mind right now: "Should I buy for who and where I am right now? Or should I buy a home that will accommodate kids, a home-based business or whatever else may come along in the next five to 10 years?" The answers to these questions may not be as cut and dry as you think.
Although you should enjoy the time you spend living in your home, you should never let emotions outweigh investment potential when evaluating properties. These tips may make the decision easier when the time comes.
The One-Bedroom Home: A Definite No-No?
You spotted an oh-so-cozy cottage during an online search. It fits your personality to a t, is close to work and your favorite places and nestled in a neighborhood you like. BUT … it's only got one bedroom and you've heard not-so-happy things about resale value.
Before you shut the door completely, take a closer look:
Location and lot size: If the home is situated in a desirable location and the lot is on the larger side, resale may be easier as a new owner can build onto the house or tear down and build new. It's all about the land, in this case. To evaluate demand in the area, check to see how long one-bedroom homes have been on the market.
Time spent: One-bedroom homes appreciate more slowly than larger homes. And selling a home can be costly when you factor in the real estate broker's commission, closing and moving costs. Do you think you'll be able to live in the home long enough to break even?
Landlording: If you don't see yourself living in the home that long, would you be willing to rent it out? Is the home located in an area where rentals, both short and long term, are financially viable?
Space: Will you have enough room to do bills, work from home, store all your stuff or comfortably house overnight guests?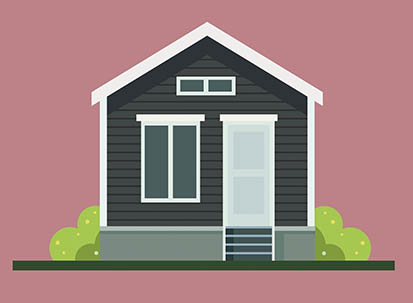 Find Your Home on RealEstate.com
The Two- to Three-Bedroom Home: Always a Win-Win?
Although the price and convenience of a one-bedroom home may attract you right now, a larger home offers pros that are pretty hard to pass up. For starters, you can take on renters to fill up the extra space until a spouse or SO comes along. And if you charge an appropriate amount, that rental money could pay your monthly mortgage and put a few bucks back in your pocket. And then there's the long-term outlook. If you buy in the right neighborhood at the right price, the ceiling for profit on a three-bedroom home far exceeds that of a one-bedroom home; opportunity for wealth creation increases with every extra bedroom in a home.
If you're sold on more than one bedroom, the next question becomes, "How big should I go?" If you're buying with a partner or spouse, think carefully about family. If you really want three or more kids, a two-bedroom home is not your smartest option. You'll want a larger home with a larger yard, for both the kids to play and to entertain. On the flip side, a five-bedroom home may not be the smartest move, as you may put off having a family or change your minds. That's a lot of house to carry (bigger mortgage payment, maintenance expenses, etc.) for a "someday we might" situation.
Need a bit more help visualizing your first home? Try these helpful exercises to determine location, amenities and price that are right for you.