If you've landed here, you may be at the tail-end of a real estate transaction. Something has changed, you're having doubts and now thinking, "Can I back out of buying this house?" The answer is yes … in certain circumstances.
A Buyer's Best Friend: Contingencies
While it's true that the seller is required to disclose what he or she knows about the property, sellers make mistakes and, on occasion, provide misleading information. It's your job, prior to closing, to verify the condition of the property, the square footage, insurability and more.
And if something janky pops up? Although most real estate contracts are legally binding, they are executed with provisions that allow you to back out of buying a house without penalty. (i.e. The earnest money you paid to the seller will be refunded). These provisions are called "out clauses" or "contingencies."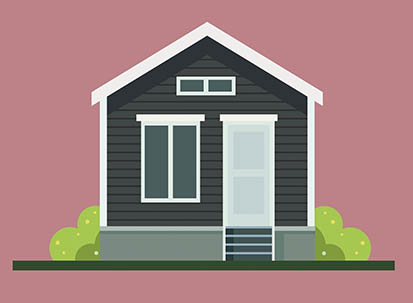 Find Your Home on RealEstate.com
"Option Period" or "Due Diligence Contingency"
This contingency allows the buyer a specific amount of time (usually five to 14 days) to have a general home inspection, hire engineers to evaluate the foundation, confirm that the house is insurable and negotiate repairs with the seller. During the option period, the buyer can choose to back out of the deal for any reason at all and receive a refund of his or her earnest money.
Appraisal Contingency
Your lender requires an appraisal that comes in at or around the sales price. Should it fall short, you can try to negotiate a price reduction with the seller. If the seller refuses, you can back out of the contract without penalty (or decide to pay the difference in cash).
Financing Contingency
This contingency allows you to cancel the contract and receive a refund of your earnest money if your loan application is denied. The contingency should specify the type of financing (FHA, Conventional, VA or other), the terms (interest rate, closing costs, down payment) and the time period (15 years, 30 years). You will have a set number of days to inform the seller that you're having problems qualifying for your mortgage and to terminate the contract without penalty.
Homeowners Insurance
To get a mortgage, you will have to obtain homeowners insurance. It's not optional. Homeowners insurance protects the house itself and your possessions, and provides liability coverage in case someone has an accident in your home.
A CLUE report is like a credit report for a house. It lists all claims, including water damage, fires and mold, reported to the insurance company for a given property over a five-year period. Insurers evaluate a home's CLUE report to determine the insurability and risk associated with a particular home. A home might have a clean CLUE report and still be uninsurable. If, for example, your inspector finds that the roof has been damaged by hail or wind, it's likely that your insurer will require a new roof to issue a new policy. Your lender too will require that the roof be replaced before it will fund a loan. A homeowners insurance contingency would allow you to terminate the contract if the home is found to be uninsurable or, in the above example, to negotiate payment of roof replacement with the seller.
Homeowners Association (HOA) Rules
HOAs might not allow you to keep chickens on the property or paint the outside of your house purple. You can ask to review the HOA docs and cancel the contract without penalty if there's something in the bylaws that you don't like.
Just 'Cause: When a Change of Heart Is Covered
You can change your mind and cancel the contract without penalty during your Option Period (Due Diligence Period) or by exercising your contingency. Beyond that, you are bound by the terms of the contract you sign. Think about it: The seller has to make plans to move too. He or she might be moving out of state or purchasing a new home. At some point, the seller needs to feel confident that the transaction will close and that it's safe to move forward with his or her plans.
Cold Feet May Cost You
If you are outside of your Option Period and you are unable to purchase the home for reasons unrelated to the legitimate contingencies above, the seller will keep your earnest money and has the right to sue you for damages. Sales contracts are legally binding documents and both parties are bound by the terms of the sales purchase contract. It is vital that you understand the details of your sales contract before you sign, and that you're aware of the ways in which to cancel the contract should it become necessary.