You weren't afraid of the mortgage payment when you bought the home, but still. It would be nice to stuff some of that cash back in your pocket. Good news: It's actually pretty easy to offset or even get your mortgaged paid entirely.
Ready to buy a home, live mortgage free or even make money on your mortgage? Let's do this.
House Hacking
The idea is pretty simple: Buy a duplex (two units) or tri-plex (three units) and rent the other unit(s) out to cover the cost of your own. You can even get crazy and buy an entire apartment building. House hacking is actually pretty easy to do and works well when you find a great deal. Denver, Austin, Charleston, San Diego and Portland are examples of real estate markets where deals can still be found. Sure, you'll have to do a bit of hunting, but you would be doing that anyway, right? In many cases you can even find a duplex or triplex that actually makes you money and then redeploy that monthly profit (hooray cash flow!) into other units. Many young investors have built significant real estate holdings this way.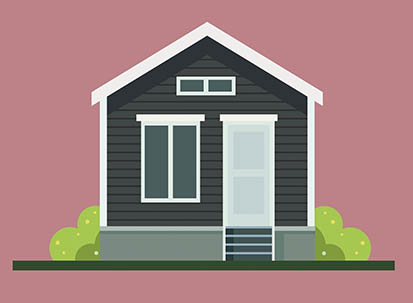 Find Your Home on RealEstate.com
Roommates
If you don't mind sharing space, you can offset the cost of your mortgage by living with friends or acquaintances. In many scenarios you can actually live for free and make extra money. Say you buy a five- or six-bedroom house, live in one and charge enough rent for other bedrooms to cover your mortgage and maintenance expenses, and pocket a couple hundred bucks. Insane ROI.
Airbnb
You can make a ton of money by renting out your extra rooms, couches or entire apartment on Airbnb. Not only is it easy to cover your mortgage (especially if you have a place in a big city), you can rent out your apartment and travel full time! Yes, there are tons of people who rent their apartments on Airbnb and use the income like a full-time job. Wha?? So crazy, but true. Look for homes in popular (or close-to) urban areas, then sit back and roll in the dough. One piece of advice: If you are buying a condo or even a standalone home, check with the housing association or management company to make sure you can rent your rooms or entire home on Airbnb. Building and homeowners associations are increasingly cracking down on owners who rent their homes through short-term rental companies like Airbnb, VRBO and others. So, read the fine print.
Home Office and Mortgage Interest Deductions
Last but not least, if you work at home, you can deduct portions of your mortgage from your taxes each year. This can really add up, especially if you work at home full-time. One catch: You must use the space you deduct for WORK ONLY. Finally, you are also able to deduct your mortgage interest from your taxes each year, which can end up significantly offsetting the cost of your mortgage.
With a little bit of creative planning, it's a lot easier to cover your mortgage payment (using other people's money) than you probably think. Here's to mortgage-free living!