You've got your eye on an older neighborhood that needs a little love. You can tell, just by looking at the architecture, that the place must have been completely dreamy when the first residents moved in. Now, not so much.
If you like the diverse mix of neighbors, know that many long-time residents may be pushed out as property values and taxes jump.
There's word on the street that things are changing. Some young couples are moving in, remodeling is taking place and you have it on pretty good authority that a pretty big business (a dot.com, in fact!) has signed a lease down the street.
Home prices are dirt-cheap right now. Seems like a win-win, yes? Before you hop in head first, do your research.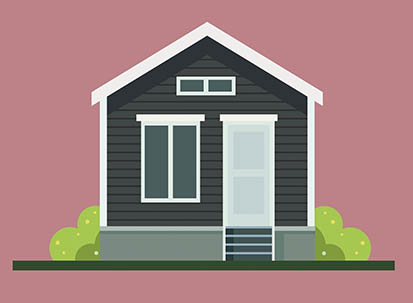 Find Your Home on RealEstate.com
Get a Handle on Remodeling Costs
Landlords want to make a profit; they most likely won't invest in extensive repairs. And homeowners living on fixed incomes simply don't have the money to do the work. The gist? Fundamental systems may be shot — or nearly so. And any remodeling done before you arrived may be makeshift or shoddy. It's worth your while to find a trustworthy contractor who can walk through the home with you and offer advice on necessary repairs, talk through your vision for the property and break down potential costs. And, if your budget allows, hire a home inspector BEFORE you put in an offer so that he or she can give you a detailed analysis of both indoor and outdoor spaces.
Are There Perks if You Purchase?
In certain areas of the country, housing authorities offer down payment assistance and other incentives to home buyers who purchase property in distressed zip codes. Take, for instance, the Detroit Home Mortgage, which offers up to $75,000 above the home's appraised value in mortgage financing to home buyers who purchase a primary residence within the confines of the city. The program has no income restrictions and offers low, fixed rates.
Could the neighborhood you love be located in a distressed zip code and therefore qualify you for grant money? Contact your local housing authority for details.
Arm Yourself for a Bidding War
Chances are, you aren't the only one who's got the inside tip. Even if you discover that remodeling costs are manageable, you may face stiff competition from other buyers and flippers who are willing to offer 20 percent down payments and earnest money. Not to mention the developers and real estate investors ready to pay cash on the spot. Working with real estate professionals who know the neighborhood inside and out may set you up for success. If you're in it to win it, know that you may have to waive some protections (home inspection, contingencies, etc.). You're basically buying the home as is.
Crime's a Reality
Although dropping crime rates may be the very reason why the neighborhood you like is switching up, crime is a reality in urban areas. Give some serious thought to your safety. It may be worth your while to investigate the cost of installing new windows and doors, a top-notch wireless security system (which may lower your homeowners insurance rate) and an outdoor security lighting system. Is there a Neighborhood Watch group? All the better. If not, would you be willing to organize one?
Gentrification Changes Things
You may love the gritty character of the neighborhood as it stands now. But what you like most may be washed away once developers move in and convert older buildings to loft complexes, restaurants and the like. And new residents may demand aesthetic changes and improvements that completely change the landscape. Are you okay if a CVS or Starbucks moves in down the street?
If you like the diverse mix of neighbors, know that many long-time residents may be pushed out as property values and taxes jump.
The Neighborhood May Never 'Takes Off'
All signs point to a good investment, but don't bank on maybes. The big business that signed a lease down the street may back out of the deal. The improvements folks say are coming may never materialize. Buying a home for what a neighborhood may become in five years is risky. You'd be better off buying for the here and now, meaning: Make sure the amenities you need are close buy, you've situated yourself in a quality school district (parents, especially) and you really see potential in the home you're buying.