Is there a way to rate loans for first-time home buyers as good, better and off the charts? Probably not, as each person's financial situation is unique. BUT there are a handful of loans that might be right for you right now. Let's review them in two categories: low down payment and low monthly cost.
First, Beware of Heavy Promotion
Homeownership is part of the American Dream and often sold as such by lenders. Which is fine. Who doesn't dream of owning his or her own sanctuary free of roommates and work chaos?
Just be aware that some lenders push extra hard to sell this dream to you, which can make it sound like their loans have special discounts for first-time buyers.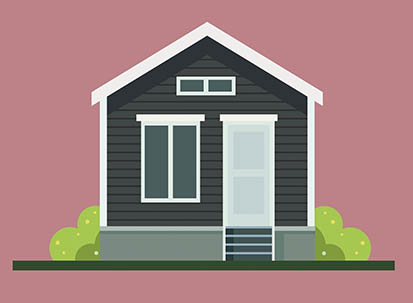 Find Your Home on RealEstate.com
The truth is, if you're a first-time buyer, you're a bigger risk to lenders than an experienced borrower because you don't have a documented history of paying a mortgage on time. Lenders have no real incentive to offer you discounts.
Home Loans with the Lowest Down Payments
Keeping it 100: If you're a first-time home buyer, you may be light on cash for a down payment. Lenders and the Federal entities that back them — Fannie Mae, Freddie Mac, FHA and VA — know this and provide plenty of options.
In all cases, these loans aren't made by the Federal entities noted. They are made by lenders who are backed by the Federal entities, which helps keep costs lower than they'd otherwise be.
Fannie Mae and Freddie Mac 3 Percent Down
Both entities offer 3 percent down programs. Note that Fannie Mae's Conventional 97 is a 3 percent down program open to anyone, while its Home Ready and Freddie Mac's Home Possible programs come with income and property location requirements. Ask a lender to school you on offerings and walk you through an option that best suits your situation.
FHA 3.5 Percent Down
The Federal Housing Administration offers loans with just 3.5 percent down. These loans feature more lenient terms — more flexibility on income, credit scores and savings needed at closing — than the 3 percent down Fannie Mae/Freddie Mac offerings.
VA No Money Down
If you're a veteran, active military member or spouse thereof, you can buy a home with zero down using a VA loan. Like FHA loans, VA loans offer flexibility on income, credit scores and savings needed at closing. You will need a Certificate of Eligibility (COE)  based on your service; your lender can help you get one.
All loan options (minus the VA loan) come with an extra fee called mortgage insurance (MI). Mortgage insurance tacked onto Fannie Mae and Freddie Mac loans can be dropped when you pay your loan down to 80 percent of the purchase price. Mortgage insurance on FHA loans extends the life of the loan and can't be cancelled unless you pay off or refinance the loan. Dang!
Although you avoid MI when you finance via a VA loan, you will be charged a VA Funding Fee, a one-time fee that can actually be added to the loan if you don't have the cash — or waived in cases of injury or disability.
Home Loans That Cost Less per Month
If you don't have 20 percent down and want to avoid the extra cost of mortgage insurance, there are two approaches to consider.
Piggyback Loans
Your first mortgage should amount to 80 percent of the home's value, a second mortgage should amount to 10 percent or 15 percent of the home's value and you put down the rest. Doing so eliminates MI, but the second mortgage rate will be higher than the first mortgage rate. And even the first mortgage rate will typically be slightly higher than normal. Nevertheless, the weighted average rate between the two loans can result in a total monthly payment that's lower than what a low down payment loan with MI could offer.
Jumbo Loan with No MI
If your first mortgage — or sum of first and second mortgages — is going to be higher than the Fannie Mae/Freddie Mac loan limit of $424,100 (this amount may be higher in certain locations), then your loan can be considered "jumbo." Jumbo lenders don't have to follow the Fannie Mae/Freddie Mac rules that require MI if the loan is greater than 80 percent of the home's value. As such, you can get a loan of $424,100 or greater without MI on jumbo loans up to 95 percent of the home's value, which translates to a 5 percent down payment. But the rate will be a little higher than a normal jumbo rate. And qualifying guidelines are more stringent: lenders expect higher credit scores and want to see at least six months of savings in your bank account after the close.