How much money do you really need upfront to buy a home? Well, let's see. Conforming loans require a minimum of 3 percent down. FHA requires 3.5 percent, and VA and USDA loans don't require a dime. Once down payment is squared away, you have to factor in closing costs and money squirreled away in savings after closing (should equal at least three months of housing payments).
Most loan programs allow part (or sometimes all) of the down payment to be gifted. Just be sure you follow the rules
Sound like a lot of money? Worried you won't ever own a home? Don't lose heart. If you're ready to buy but coming up short in the down payment and savings department, help is available — in places you may have never thought to look.
1. Non-profit housing agencies have outstanding programs
These locally-run organizations provide down payment assistance in one of three forms: outright grants, second mortgage loans with low interest rates and "silent seconds," which require no payments until you sell or refinance the home.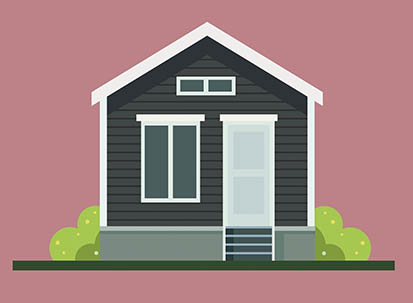 Find Your Home on RealEstate.com
These agencies set income restrictions, as programs are designed to help lower-income families buy their first homes. If you think you may qualify, search for "down payment assistance in (your city)" to find your local agency.
2. Grants are a thing
There are lenders, although few and far between, who provide down payment assistance in the form of grants. When you start shopping for your loan, ask the loan officers you interview if they offer such programs.
3. Nearly all lenders offer "lender credits"
A lender can assist you with closing costs by offering a lender credit based on the interest rate you choose. You can pay points upfront for a lower interest rate or pay a higher interest rate and have the amount you would have paid in points applied to closing costs.
Note that this is not the same as a grant; you are paying for the closing costs over time in the form of a higher interest rate. When shopping for your loan, ask each lender what his or her interest rate would be if it included a credit large enough to cover all of the costs you expect to have to pay in escrow.
4. Parents or family are the most common source of gifts
Most loan programs allow part (or sometimes all) of the down payment to be gifted. Just be sure you follow the rules: The gift must come from immediate family and the donor must sign a letter that lists the gift amount, the recipient, the relationship between the recipient and the donor, the purpose of the gift and the donor's intent to gift the amount with no expectation of repayment. If you make arrangements with your parents to repay the debt, repayment terms must be put in writing.
The best way to ask family for a gift of funds is to explain what you are trying to do and why. Include them in the dream of homeownership. They were young once, too, you know.
5. Don't forget your employer
If you are relocating because of a job, ask your new employer for a bonus to cover the cost of a down payment. Make this part of the compensation negotiation. Especially in high-cost areas, employers understand that their employees may need help buying homes. It benefits an employer to pitch in: You are more committed to the area and, down the road, less likely to accept offers from employers in other states.
6. Finally, don't ignore crowdfunding
People really do want you to succeed, even strangers. Owning a home is part of the American dream, and stories of folks striving to put that stake in the ground tugs at our heartstrings.
The key to crowdfunding is to tell a story that thousands can relate to and support. Why do you want to buy a house? How will it improve your life and that of your family members? How will you give back to others? You need very little to actually get into a home, so crowdfunding may just work.
If the time isn't right to buy a home, don't try to force it. But if it is the right time — perhaps you have a growing family, need more stability or just want a place of your own — don't let the lack of a down payment stop you from becoming a homeowner now. There are many ways to ask for help with your down payment; you just have to ask!