America's foreclosure rate is finally dropping, but there are still foreclosed properties out there — and ever will be. What is a foreclosure and how does it happen? Here are some common scenarios.
The old man died and his elderly wife couldn't make the payments on the house after he was gone. She also couldn't manage the upkeep. Raccoons. Attic.
A young couple bought a beautiful luxury home, but they were unhappy and got divorced. The wife left, but the husband stayed behind, making a strategic decision to live for free until the bank kicked him out.
A family lived in a home with a sinking foundation. Mom and Dad got repair estimates and learned that the cost of the repairs equaled the value of the house. In a losing proposition, they stopped paying the mortgage, packed up the kids and bounced.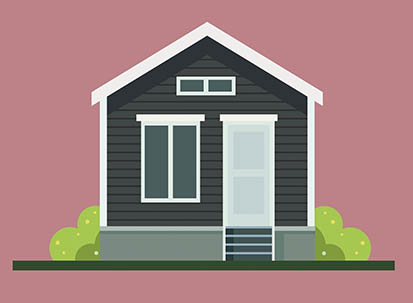 Find Your Home on RealEstate.com
In short, there's a sad story there — somebody lost a house. And it's quite possible, especially in older homes, that maintenance has been deferred. If you're hoping to cash in on a foreclosure, here's what you'll need to know before you dive into the deep end.
Work with an Agent Who Knows the Ropes
See if your real estate agent can find out the reasons behind the foreclosure, says Alla Kimbarovsky, broker for Illinois-based @properties. "An experienced realtor knows how to do research and can often discover if it's just financial issues or if the owners decided to walk away because of structural issues." Also consider hiring an attorney who specializes in foreclosures.
Take a Tour with a Home Pro
The home will be sold "as is," so try to determine the extent of the problems. Pay a contractor, builder or architect to go with you and get his or her opinion on what is needed as well as your envisioned changes. A consultation is a small investment, but it pays for itself. "If there are irreversible issues, you may save yourself hundreds of thousands of dollars," says Kimbarovsky. "Better to spend $200 on a good professional inspector and know ahead of time."
Brace Yourself for Stiff Competition
Banks generally don't want to hold on to properties; they want to get them off their books. But if the home's a good deal, which it often can be, others will want in. "The bank is getting inundated with offers and they tend to go into a shell," says Claude L'Heureux, senior vice president of residential lending at Illinois-based Community Bank of Oak Park River Forest. Weeks might pass before you get a response to your offer. And the bank wants to get top dollar, so if a better offer comes in, even after you have a contract, you may lose the deal.
Know That the Previous Owner Can Be 'Out There'
You may have to evict someone who's still living there. And that person may have become hella bitter and poured concrete into the plumbing. In states that enforce mandatory redemption periods, the previous owner can reclaim the property after you've bought it by paying back his or her loan, taxes and penalties. The redemption period is brief, but the risk of losing out is REAL. Err on the safe side by investigating your state's laws before you proceed.
Investigate Your Loan Options
Getting a loan for a foreclosure follows the same steps as funding for any other property, assuming the previous owner didn't trash the place on his or her way out the door. "But if there's no kitchen and they've taken all the copper pipes, you're going to have a problem getting conventional financing or an FHA loan, says L'Heureux.
But don't give up hope. An FHA 203(k) loan provides you with money for the purchase of the property — AND money on top to put toward renovations. "The intent of these loans," says Tim Magee of Illinois-based Magee Mortgage Associates, "is to get people to buy distressed houses and rehabilitate them." It's an exciting prospect — buying a fixer-upper — but the FHA will insist you hire a consultant to help you determine the scope of work. The agency wants to make sure a new home buyer doesn't make a bad situation worse.