There are several home-related benefits available to veterans. The VA home loan, which is used to finance an owner-occupied dwelling, is probably the one we know best. Ever heard of the Specially Adapted Housing Grant (SAH)? It's available to veterans and active duty personnel who are receiving or will receive disability payments as a result of a traumatic service-related injury … and it's pretty awesome.
Note: This is not a loan and there are no monthly payments. You don't have to pay back an SAH grant.
Purpose and Covered Expenses
The SAH grant can be used to adapt a living space to accommodate a disabled veteran's needs. Adaptations may include:
Widening doors to accommodate a wheelchair
Lowering cabinets and shelves
Installing a no-step entry, such as a ramp or lift system
Widening hallways
Adapting a garage to accommodate a vehicle and room for vehicle exit
Adapting bathrooms to accommodate a wheelchair by installing non-slip flooring and shower grab bars
Installing stall showers
Lowering wall switches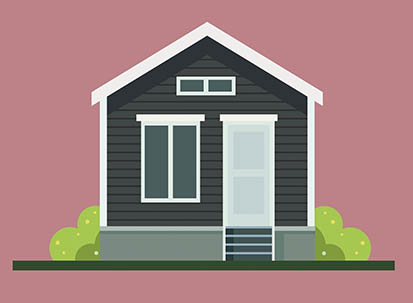 Find Your Home on RealEstate.com
A couple different scenarios are covered: paying for all or part of new home construction, paying for adaptations to an existing home or paying down the principal mortgage balance on a previously adapted home. There is also a "temporary" grant that can be used to adapt a family member's home in which a veteran is or will be living.
Application and Approval Process
The veteran does not request the grant from an approved mortgage lender but instead makes the request directly to the nearest regional VA center by filling out and submitting form DD form 26-4555.
The SAH grant is available at any time; there is no time frame in which the veteran must apply.
To determine SAH grant eligibility, an SAH agent will review the application, check the applicant's disability rating, make sure the applicant is physically able to live in the home and do a credit check and financial analysis. If the grant will be used for new construction or to remodel a home about to be purchased, an approval letter from a VA-approved lender may suffice.
Getting the Ball Rolling – and Protecting the Veteran's Interests
Once eligibility has been determined, an SAH agent will make an in-home visit to explain in detail the process and identify which plan within the SAH guidelines is appropriate. The veteran can select his or her own licensed contractor; there is no official SAH-approved contractors list.
The veteran must provide at least three separate bids from contractors based upon the work needed and identified by the SAH agent. The selected contractor will supply complete constructions plans and specifications. After the veteran and contractor sign an escrow agreement, grant money is placed in escrow; the SAH agent manages disbursement of funds at each stage in the construction process.
Maximum Benefit for Veterans
For 2017, the total SAH grant is $77,307. The amount is adjusted once per year based on an established cost-to-construct index. The veteran can make three separate requests as long as the total amount of requests does not exceed the maximum amount.